KNife, a Savannah, Georgia based rapper/producer – and illustrator – recently sat down recently to answer some questions for By Volume. The eloquent emcee has more than a few thoughts on American and global politics, its place in day-to-day life, his growth as an artist, how he's done making beats and what it's been like being a citizen in a country he spent a good chunk of his life not living in.
Check his newest album Iconoclast below as well, via KNife's SoundCloud. Rest assured: it's very, very good.
Very excellent of you to take the time out to answer our questions; it's appreciated!

KNife: Thank you for being interested.
Did you approach Iconoclast any differently from your other albums?
KNife: I did. Obviously you always try to make your newest project sound different from your last, but I drew from a completely different well of my mind with this. While my first two albums were heavily influenced by my personal life at the time they were written, Iconoclast is me just trying to be creative with theme. We knew what the albums name was, and I just used that word to inspire the songs.
Did you write from a biographical stand point? Some artist try to create a persona about themselves, but that doesn't seem to be the case with your music. It's extremely straightforward and honest.

KNife: I am all about rappers having somewhat of a persona. I look at it as being myself with the volume turned way up. But I never consciously thought about or referenced specific events from my life for this album. Like I was saying, my first album (2000 Yard Stare) is about me, me, me up to that point in time. My second album (Blackmale) is the same, just with a 5-year update. But this album isn't about me. My life experiences are always going to influence my art, but dictate.
You hit on a lot of, what some might consider touchy political topics in a lot of your lyrics — any thoughts on the idea of keeping silent and/or polite when it comes to discussing politics/social standards?

KNife: I think it goes without saying that I'm far from a prude, but if it's cool to talk about the coke kilos you flip and bitches not being loyal and molly, then politics can just be another addition to what can be rapped about. It really comes down to the execution of the artist, and the willingness of the listener but it's just another topic as far as I'm concerned. This album started productions shortly after the last presidential election, Sandy Hook, Libya and "iconoclast" is a politically charged word anyway so that ended up being the direction of the set.
What are your thoughts on this type of discussion being beneficial?

KNife: The fact that it actually matters is the key thing to me. Unfortunately decisions politicians and mega rich affect our lives so we should care a little right? You don't gotta yell it or be about it 24/7, but at least give a shit.
You refer to President Obama being a killer on more than one occasion throughout Iconoclast – do you feel he's been getting a strange pass of sorts when it comes to popular opinion and his affinity for ordering death-by-robot?
KNife: No, I don't think he's getting a pass at all. The people who know about it and are informed call him on it. And people who don't spend their time knowing every detail of love and hip hop or Duck Dynasty, are outraged. I think young people have their head up their ass significantly more than they did back when Bush was president, and it's not necessarily their fault, we're bombarded with distractions. As far as "a Pass," every president has their supporters that gloss over what's fucked up about them. That isn't new.
Do you feel you approach these topics from an American or Human standpoint? I mean actively, while writing lyrics, as we'll always tend to look at a situation initially through our own eyes, so to speak.
KNife: I tried to dabble in both point of views. I spent my childhood as an American in another country. And then when I moved here at 18 I realized that just by not growing up here, it's almost like you're not even American all, so even when I'm not rapping about these things, my outlook can change from both sides.
Iconoclast bounces all over the place, in the best sense, was this something you were striving for? An album that reflects so many aspects of being human?

KNife: Very much so. All of these songs where written simultaneously as one piece. So when you're going in that direction it's easy to pick up on where you're rehashing ideas. So I wanted Iconoclast to come from all directions.
Would you say this aesthetic applies to you as an artist? As in: an attempt to create your music without boundaries? Or do you usually try to convey a specific message or essence within your songs?

KNife: With themes and topics, I try to stay away from specifics as much as I can without sounding like I'm trying too hard and want my work to convey ideas. If I do it right, most people won't be able to bluntly say "hey this KNife song is about…" Making music has never been a means to an end for me, so there are no boundaries. I can't even comprehend the idea of not being able to create 100% exactly what I want to with a record.
What do you look for in a beat?

KNife: Anything dope really. It's like obscenity laws: I know it when I see it.
I feel like a lot of Mammyth's production on Iconoclast is pretty diverse; reminiscent of classic, creepy boom-bap a la Wu-Tang or Three Six Mafia, and yet there's songs that feel distinctly modern. "Keep Me Entertamed" feels electronic almost. Did you approach the album's creation wanting it to sound a certain way? Or was it more: try until you find what feels right?

KNife: All of the beat selection was very deliberate. Again Iconoclast was the title that the beats had to fit into. Sonically it's a dark parody of pop rap sounds. We got trap, electronic, boom bap, abstract.
Did you like the process of recording with one producer for the entirety of Iconoclast?

KNife: Yes, very much! Working with Mammyth has completely killed whatever hopes there were of me getting back into beat making. I'll just leave that to the pros from now on. But yeah working with one producer really focuses the project for me.
Did the two of you spend a ton of time drafting beats? Or did Mammyth come to you with beats to select from?

KNife: We had basic concept beats I selected from. I kinda thought about ideas for them as songs, and then we went back and reshaped the concepts more around those ideas. Then I wrote, recorded, and the beats were finalized in post.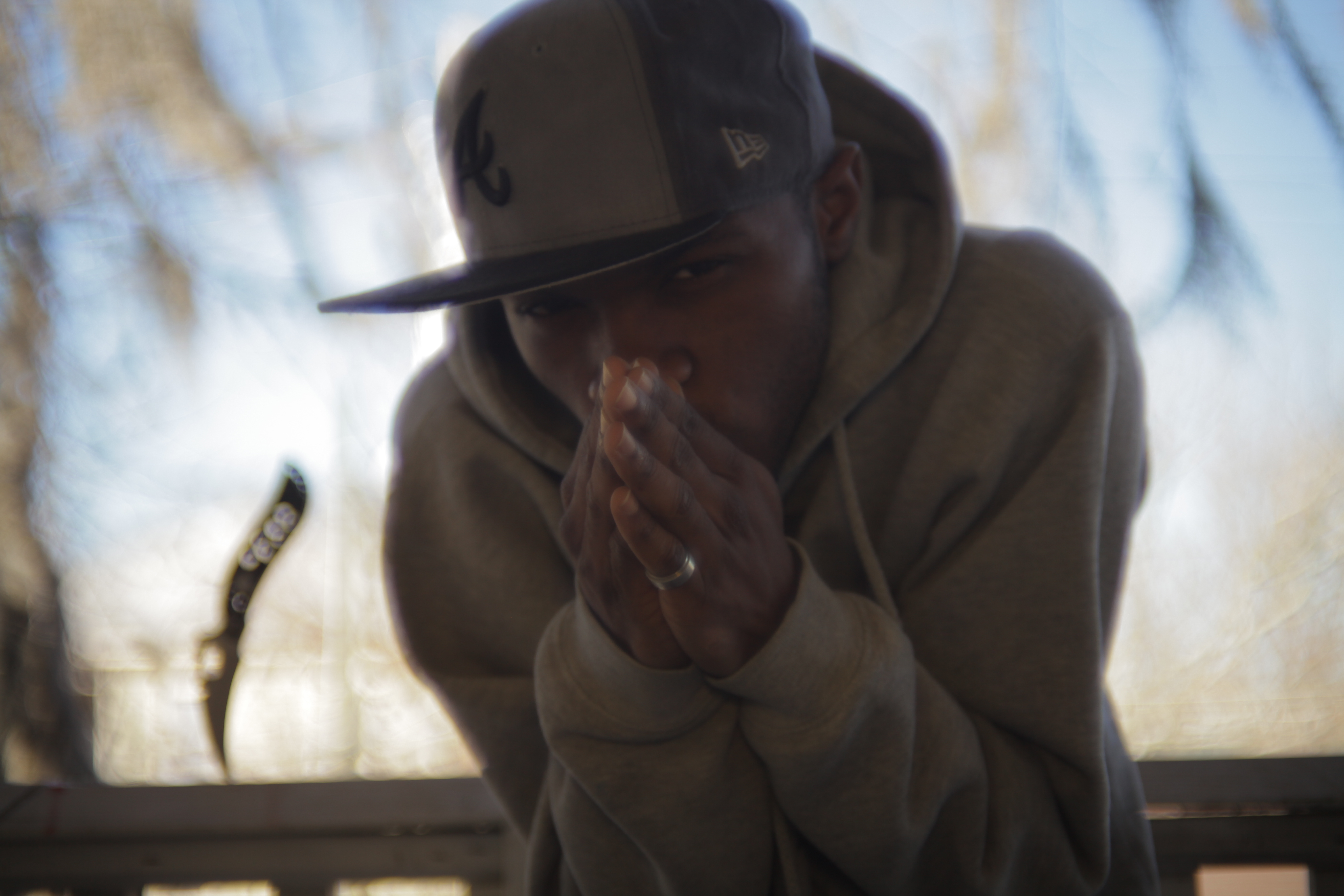 Could you speak about any of the album's influences? Anything in specific that you felt seeped into the record as you were in the studio? Albums, singles, books, artist – anything really.

KNife: The one thing we both decided going in, is we wanted this to feel like Nine inch Nails meets Public Enemy. If we accomplished that or not isn't important, but that was the big influence going it.
Any music on heavy rotation recently?
KNife: Yeah I recently opened up for Curren$y and then Homeboy Sandman, so I've been going through their catalog for the past month now. Still not done yet, those brothers got a lot of work.
How about any films, TV or books?
KNife: I can't keep up with all the shows now, but I watch mad movies. Big basketball fan too.
Any side hobbies that you do for relaxation, away from music?
KNife: I draw and write comic books too. Hopefully that won't be a just a hobby soon also.
Any touring planned for the remainder of 2014?
KNife:
Sandwich _rap tour:
July 20th – Jacksonville, FL (Summertime in the City)
July 24th – Atlanta, GA (529)
July 26th – Raleigh, NC (Havoc)
July 30th – Pittsburgh, PA (Delaine's Coffee)
July 31st – Trenton, NJ (Mill Hill)
Aug 1st – New Haven, CT (Café Nine)
Aug 2nd – NY (Velvet Lounge)
Aug 3rd – NY (The Pyramid Club)
Aug 4h – Philadelphia, PA (pending)
Aug 8th- Savannah, GA (Jinx)
Anything you would like to add? Otherwise thanks so much for taking the time to answer our questions KNife.
KNife: Thanks for having me.
(Photos courtesy of Mark Balderston & Chris Maddox)