Killing Sound – Eight Movements (Blackest Ever Black, 2014)
Killing Sound are a sub-collective of Bristol's low-end flagship Young Echo crew. This particular team was birthed as an improvisational collaboration between Vessel, El Kid and the Jabu duo. Regardless of initial intentions, their first substantial release comes two years after manifestation, in the form of an undoubtedly calculated four track EP on Blackest Ever Black. The label choice comes as a slight surprise as considering they operate in different circles, though tonally, the Killing Sound EP slots in nicely on the periphery of canon B.E.B. The tracks bare a similar mood to the material of doomsayers Raime, but stripped of industrial influence and pumped with soundsystem culture hallmarks and bass of hazy Bristolian dub heritage. "Eight Methods" sits as a somewhat anomalous period of respite on the record as the concurrent theme of dread is pushed out of frame for a few minutes. When it comes to looped ambience, it's one thing sounding nice but standing out as good or great is another thing entirely, and while "Eight Methods" doesn't bring new sounds to the ears, it's music as poignant and macabre as the blood moon itself and it takes just as much breath away. Pulsating winds grow into a voice as its reprice echoes back the refrain over grave bass movements, and atmospheric drip-drops and occasional broken radio chatter are subtle enough to keep you held on edge.
Art Crime – Never Look Back (WT Records, 2014)
I think it's time we considered the possibility that Willie Burns is a vampire. Don't get me wrong, we're fans of his work here at By Volume – see the excellent Black Deer self-titled – but between holding The Thing's records together and pumping out releases on every label ever, just where does he find the time to run his own imprint? Mysterious newcomer or veteran's moniker, he's unearthed one to watch with Art Crime, a Russian, Moscow-based producer. "Never Look Back" begins with notes looped throughout the track, and only rainfall itself could be behind the piano hitting the whites and blacks with such melancholic grace. The piano leads all the way through what's at first relatively stripped back house affair with a driving beat and a bassline that cushions more than impacts. Once the depth of the claps and the excited shakers settle in, sweepers tear across the soundscape and piano melodies cascade against each other, rounding off an EP that elaborates on a range of dancefloor emotions.
Voices From The Lake – Velo di Maya (The Bunker New York, 2014)
The first half of 2014 is seeing more than its fair share of Donato Dozzy, much to our pleasure. The minimal maestro has had an aquatic collaboration compilation with Nuel drop, plus he's worked with Tin Man for an entry to the Acid Test series. He's also been touring with Neel as Voices From The Lake, known for their sprawling live performances nearly as much as they're known for their irrefutably sublime self-titled album from two years back. That same year they played for The Bunker in New York, the six-hour shift consisting of two separate live performances and some back-to-back DJing. The Bunker got in touch with the duo about their unreleased music that was played, and VFTL worked to reconstruct the best segments of the sets as live studio tracks, forming the Velo di Maya EP. The record begins with the title track, typically patient in setting the scene before distant drums fire off a couple of minutes in. Their physicality gradually intensifies as the track progresses and only by the end are they ever really tangible. "Velo di Maya" is a slow waking, one that baptises you in crackles and low-end oscillations, stretching atmospherics and muffled, warbling cruise ship horns, all leading up to the moment when percussion finally comes into focus.
Teresa Winter – The next city (CACAO, 2014)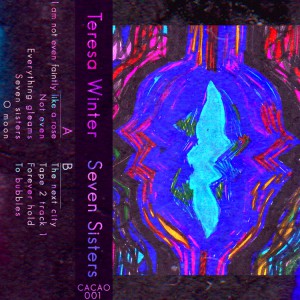 Earlier this year, Teresa Winter's Seven Sisters served as the inaugural release on experimental tape label CACAO, and it's well worth grabbing from their website in high quality for free. The album sits in some otherworldly plane between experimental and lo-fi dreampop, throwing soft electronic loops and disintegrated noise into the mix. Sitting as a bridge of sorts around the record's midway point is "The next city", a tune that centers around a light, soothing melody played on what sounds like a dampened xylophone. It dives into a rough, unassuming drum beat almost immediately, then Winter begins to sing. Her voice is high enough to lift the track up with it, complementing the other layers, though her words are opaque – all you can make out is that they are words, only sung for her. Winter's floating lilt, combined with the intangible, airy instrumentation, brings to mind the playful exploration and innocent curiosity of youth. As the track seems to turn half time and later loses its drums, it melts away like a lullaby that eventually sways you into slumber.
Download "The next city" FLAC Download "The next city" MP3
Leon Vynehall - It's Just (House of Dupree) (3024, 2014)
Without meaning to sound too hyperbolic, Music for the Uninvited is definitely going to be looked back on as a highlight of the year – largely owing to the fact that it's such a joyous triumph. Leon Vynehall considers it to exist somewhere between an EP and an album, and it certainly has a cohesive fluidity holding it together. Conceived from Vynehall's younger memories affectative of the tape format, it starts with a strikingly elegant beatless house jam of endearing cello movements on the Zelda-referencing "Inside the Deku Tree", and the record peaks at "It's Just (House of Dupree)", a more straightforward floorfiller. The title reflects the sampled monologue that introduces the track, explaining the climate of New York's ball culture before the looped vocal kicks in – it might be a spliced version of the words "It's Just", however it pans across as if you're stood by a carousel and someone on the ride is trying to tell you something but all you're getting is unintelligible Doppler shift. The beat is uplifting and persists long enough to coerce the most stubborn of listeners, tickled by tape crackle and briefly-arpeggiated melodies. The breakdown brings in rhythmic strings which return for a decisive epilogue at the end of the tune – all good things must come to an end, but sometimes that moment can be just as wondrous.